Phone: 608.822.2755

Toll Free: 800.362.3322, extension 2755

Email Jerry
Building 1200, Room 1200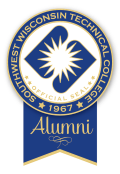 Job Duties:
Performs custodial tasks on Southwest Tech campus.
Maintains grounds including lawn mowing, tree maintenance, snow plowing, trash collection.
Assists the other Facilities staff with project work.
Moves furniture.
Delivers campus mail from loading dock to recipient.
Locks and unlocks campus facilities.
Maintains vehicle pool and recommend major maintenance or vehicle replacement to the Director.