Certificate Information
The Southwest Tech Dairy Goat Herd Management Certificate is a non-degree certificate that includes the following components:
11 online courses
A two-day annual Dairy Goat Academy providing hands-on training
120-hour mentorship program
An experienced producer or novice goat farmer can enroll in the certificate to fine tune their farm management skills and gain the knowledge to support a full-time commercial dairy goat operation. A student may choose to take just one course or the whole certificate. The courses average 5 hours in length and can be taken anywhere! The student will gain skills needed to begin, maintain, manage, and profit from a commercial dairy goat operation. The program includes presentations from speakers of expertise offering their knowledge and experiences in the commercial goat industry.
Speakers of Expertise offering advice and knowledge
Courses completely online
Hands on academy and mentorship program
Earn a non-degree certificate in dairy goat herd management to develop your management skills to own and operate a dairy goat operation.
Courses – no application required!
Dairy Goat Herd Management Online Courses Schedule Round 3
We are excited to introduce to you the upcoming spring round of Dairy Goat Herd Managment online courses​!
January 14 -February 8
Introduction to the Industry
Kid Management
Herd Health
February 11 - March 8
Genetics and Selection
Reproduction and Breeding
Promotion and Marketing
March 18 - April 12
Farm Records and Financial Managment
Nutrition
Writing a Business Plan for Your Operation
April 15- May 10
Milking Facilities and Housing
Production Records and Analysis
2019 Dairy Goat Academy: November 1 & 2
Save the date!!! The 2019 Dairy Goat Academy will be November 1 & 2, 2019 at Southwest Tech's Campus in Fennimore Wisconsin.
Once again, we are excited to be partnering with the Wisconsin Dairy Goat Association to host their Annual Sale as well!
Featured presenters
Dr. Amy Robinson
Dr. Chris Duemler
Dr. Tera Montgomery
Randy Adamson
James Gage and more!
Presentation Topics
Dairy Farming in Mexico
Reducing Kid Mortality
Animal Welfare Training
Meat Goat Marketing
Business Planning and Financing
Extended Lactations and more!
There will also be a vendor fair both days!!
You don't want miss this opportunity to learn and network with industry experts!!!
48 Hour On-Farm Mentorship Program
In 2019, our mentorship program was redone to be more hands on! We are excited to present this new Program! This program includes 2 sections of Mentorship available anywhere in the Country!
Mentorship 1 – Goat Mentorship- Animal Care & Management
Students enrolled in this mentorship will be expected to work 24 hours on a current operating dairy goat farm. Students will evaluate animal housing needs, gain knowledge of kid deliveries, identify milking protocols, discuss humane husbandry as it applies to a commercial farm, and understand basic kid care.
Course Hours: 24 Hours
Pre-requisite: 47-090-434 Dairy Goat-Introduction to the Industry
Offered Spring Semester
Mentorship 2 – Goat Mentorship-Business & Maintenance
Students enrolled in this mentorship will be expected to work 24 hours on a current operating dairy goat farm and a related industry experience. Students will understand and participate in basic herd maintenance procedures on farm including hoof care, health management, record keeping and manure management. Students will be exposed to one farm's method of genetic selection and breeding practices. In addition, students will explore an area of their choice in the goat industry that will enhance their career goals.
Course Hours: 24 Hours
Pre-requisite: 47-090-434 Dairy Goat-Introduction to the Industry
Offered Fall Semester
Instructor: Clare Heberlein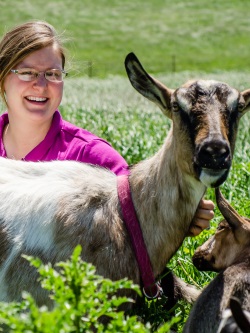 Dairy Goat Herd Management Coordinator/Instructor
608.822.2723
cheberlein@swtc.edu
Clare and her husband Jason and their growing family own and operate a commercial dairy goat operation outside of Fennimore, Wisconsin. The Heberleins milk 300 dairy goats in their custom made facilities since 2010. Clare has grown up with the goat industry. She began raising her herd of show Alpine does at nine years old. She still maintains that same show herd of goats and manages the herd health needs of their commercial operation. Clare and Jason have a passion for goats and the industry and can often be found promoting the goat in whatever way possible.
Certificate Sponsors
If you are interested in sponsorship opportunities, please contact the Southwest Tech Foundation at foundation@swtc.edu or 608.822.2362.