The purpose of Charger Tech 360 is to support students with the technology they need to complete their degree at Southwest Tech.
Charger Tech 360 is designed to offer complete technical support so you don't have to worry about the "techy" stuff, and just concentrate on learning.
Technology & Support Included
Charger Tech 360 is more than just a laptop, it's support, software, and service when you need it providing a successful learning experience.
Support and Service
Charger Technology Support Center
Charger Tech 360 gives students access to the Charger Technology Support Center located in Room 314A (in the Knox Learning Center) and is available Monday – Friday from 8 AM – 4:30 PM.
Support is only provided for software issued and used by Southwest Tech staff and students. We do not provide support for personal software on school-issued laptops, or personal hardware components attached to school-issued laptops.
Laptop hardware support is provided solely by the Charger Technology Support Center. (Additional fees may be assessed due to laptop damage)
We can be reached by phone or email during our staffed hours – 608-822-4357, email the Charger Technology Support Center. Please leave a voice message or email if support needs arise during after-hours.
Pickup/Troubleshoot/Return Appointments
The Charger Tech 360 staff are happy to assist you. Please make an appointment to pick up, work on, or return your laptop.
Software
All students will have school-wide software pre-installed on the laptops. Additionally, program-specific software is available and instructors will let you know what software is needed for your coursework.
Pre-Installed School-Wide Software
Adobe Reader - PDF viewer
Microsoft 365 Apps - Word, Excel, PowerPoint, Access, Outlook, OneNote
Respondus Lockdown Browser - Schoology testing software
TeamViewer - Remote support software
VLC Media Player - Multimedia player that plays most multimedia file types and formats
Windows Defender - Anti-virus software
Zoom - Video conferencing software
Program Specific Software
Hardware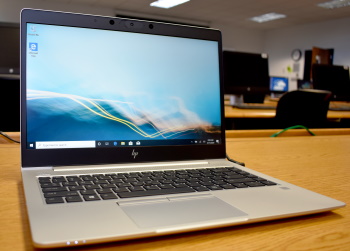 All automatically enrolled students will receive an HP 14" touch screen EliteBook-Windows10 Pro64. Each laptop comes with a backpack, with Southwest Tech's logo and name embroidered on it.
Additionally, students receive hardware support and accidental damage protection.
How Charger Tech 360 works
For the 2021-2022 academic year, all students will receive a rebate for the technology fee. In the 2022-2023 academic year, automatically enrolled students will be charged a technology fee of $400 each semester (summer excluded). Students participating in Charger 360 for four semesters will have the opportunity to retain the laptop upon graduation.
All buyout laptops will have SWTC software removed. See the Charger Tech 360 FAQ page for answers to questions, including eligibility, about Charger Tech 360.
Getting Started With Charger Tech 360
Log into the Charger Tech 360 Portal

Your Charger Tech 360 account should be activated by 8 am the next business day once your registration has been processed by student services. If prompted, enter your Southwest Tech credentials (student username and password)

Eligible students should follow the instruction to sign the laptop agreement and validate their shipping address (online students).