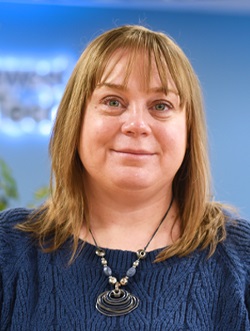 Phone: 608.822.2353

Toll Free: 800.362.3322, extension 2353

Email Pauline
College Connection (Bldg 400), Room 476
Personal Note:
I grew up in Southwest Wisconsin and love small town, rural living! I decided to stay close to home in attending the University of Wisconsin – Platteville for my undergraduate education. I started as a Psychology Major as I wanted to help people and after a couple of changes, I found my place and earned my Bachelor's Degree in Business Administration with a Human Resources Emphasis. I worked in Human Resources for a couple of years and after starting my family decided that was not the area I wanted to work in long term.
I started working at Southwest Wisconsin Technical College in Student Services and knew that working in education is where I belong. It was while working in Admissions and observing the impact that the advisors had with students that I knew one day I would become an Advisor myself. It is here that I have found my passion of helping students navigate their educational journey, exploring their interests, and helping to guide them along the way in their successes and failures. Watching students achieve their desired goals in learning, careers, and life is so incredibly rewarding. I look forward to working with each of you as you discover your passions.
Degrees / Certifications:
Bachelor of Science- Business Administration UW-Platteville
Career Development Facilitator Certification
Professional Organizations / Associations:
Wisconsin Academic Advising Association (WACADA)
Job Duties:
Provide individualized and broad student advocacy to help prospective, admitted, and enrolled students navigate the college experience.
Advise students on program options, course selection, and career choices as well as college programs.
Assist in recruiting and retaining students from admission through graduation and career goal attainment.
School Involvement:
Applicant Conversion Committee
Community Involvement:
Plum Valley Booster 4-H Club
Fennimore United Methodist Church