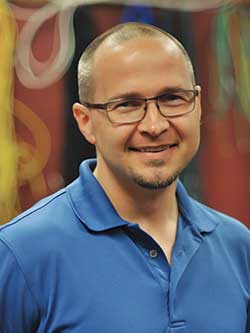 Phone: 608.822.2429

Toll Free: 800.362.3322, extension 2429

Email Aaron
Koenecke Building (Bldg 200), Room 202
Degrees / Certifications:
Associate in Applied Science: Alexandria Technical College, Minnesota
Bachelor of Science, Information Technology: Franklin University, Ohio
Cisco Certified Network Associate (CCNA)
Cisco Certified Network Instructor
Novell Certified NetWare 3 Administrator (CNA)
CompTIA Network+ / CompTIA Security+
Training Received:
Center for Systems Security and Information Assurance (CSSIA)
Cisco Systems, Las Vegas, NV
Interconnecting Cisco Network Devices (ICND)
Microsoft Corporation, Las Vegas, NV
Train the Trainer- Microsoft Certified Trainer (MCT)
Administrating Microsoft NT v4.0
Exchange Server v5.5 Admin
Scientific Atlanta, Atlanta, GA
Activating & Operating Digital Video Systems
Experience:
7 Years teaching the Network Communications Specialist Program
4 Years leading specialized 'Boot Camp' style courses in Network+ and CCNA
Customized Corporate Training – Computer Applications, Basic Network and Internet Concepts
Hardware Specialist | ABS Global - DeForest, WI
Senior Systems Support Specialist | Stratosphere Gaming Corp. – Las Vegas, NV
Senior Network Specialist | Cox Communications, Inc. – Las Vegas, NV
Independent Systems Consultant | Southwest Wisconsin
Faculty Information / Personal Note:
Aaron grew up in Southwest Wisconsin and then attended college at Alexandria, Minnesota. After college he acquired his first after college job at ABS Global in DeForest, Wisconsin. He worked on with an AS/400 environment networked with Novell and token-ring architecture. He also assisted with the AT&T PBX telephone system.
Aaron then moved to Las Vegas to work for the Stratosphere Hotel and Casino. There he had the responsibility of administering the 3 main servers; Hotel, Casino and Administration. He received experience with a 24 hour industry while working on one of the first diskless workstation Novell environments.
Aaron was then offered a Networking position at the Las Vegas Cable Television company, Prime Cable, which was acquired by Cox Communications, Incorporated shortly after he was hired. At Cox, Aaron was responsible for the company's infrastructure and assisted with the deployment and design of one of the country's first cable modem ISP networks. Aaron was also the Backup Administrator for the Broadband Delivery System Administrator, who was responsible for the Digital Cable TV network.
Aaron has been working for Southwest Wisconsin Technical College for 7 years now. He has modified the curriculum for the IT – Network Communications Specialist program so as to integrated Voice Over IP, wireless and video systems into the program, created a new courses in Information Security and Linux Administration.