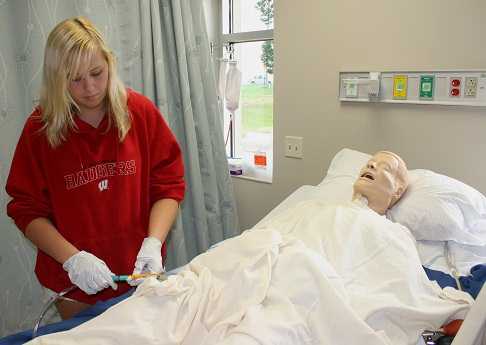 Nursing Assistants play an important role in basic patient/resident care activities in hospitals, nursing homes, and other health care settings, including home health care. The Nursing Assistant course meets state and federal requirements for training and testing, and is open to individuals 16 years of age or older. The course also serves as one prerequisite for individuals applying for the Nursing – Associate Degree program.
The Southwest Tech Nursing Assistant Program is approved by the Wisconsin Department of Health and Family Services, preparing the student to be successful in meeting state and federally regulated competencies as a nursing assistant. The graduating student is eligible to take the National Nurse Aid Assessment Program Exam, which includes both a written and skills exam.
This course is not eligible for financial aid.
Upcoming Nursing Assistant Courses

Dates/Times
Format
August 12 - October 11, 2019
Orientation: Monday, August 12 from 10 a.m. to 12 p.m. (room 205)
Labs: At SWTC on Thursday, September 5, Monday September 9, and Monday September 16 from 4-9:30 p.m.
Theory Online
September 23 - November 22, 2019
Orientation: September 23
Lecture Monday and Tuesday 4:30 p.m. to 8:10 p.m. (Room 2635)
Lab: Wednesday or Thursday 4:30 - 7:15 p.m. (Room 2634)
Face to Face
October 21 - December 20, 2019
Orientation: Monday, October 21 from 4-6 p.m. at SWTC (Room 205)
Labs: At SWTC on Monday, Nov 11, Tuesday, Nov 12, and Wednesday, Nov 13 from 4-9:30 p.m.
Theory Online
November 18, 2019 - January 10, 2020
Orientation: Monday, November 18 from 4-6 p.m. at SWTC (Room 205)
Labs: At SWTC on Monday, Dec 16, Tuesday, Dec 17, and Wednesday, Dec 18 from 7:30 a.m. to 1:00 p.m.
Theory Online

Upcoming Advanced Nursing Assistant Courses

Dates/Times
Format
Clinicals
October 21 - November 16, 2019
Orientation: October 21, 6-8 PM (Room 205)
Labs: Thursday October 24, 4:30 – 7:30 PM, Friday, November 1, 4:30 – 7:30 PM, Thursday, November 7, 4:30 – 7:30 PM
Online
Location TBA
November 14, 15 & 16 1:45 - 10:15 PM