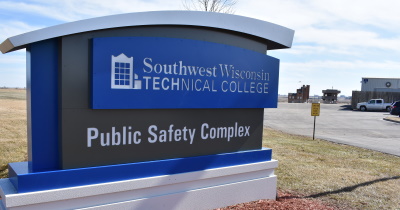 Completed in 2012 after 5 years of planning and construction, the Southwest Tech Public Safety Complex (PSC) has become the area's best resource for public safety professionals as well as the general public interested in wellness, safety, defensive, and professional career preparation training. Hundreds of hours were spent working with experts and end users to develop a training center that would fit the needs of first responders as well as citizens interested learning special skills at a safe environment with certified instructors.
The PSC is home to the College's Criminal Justice Studies, Fire, EMS, and Electrical Power Distribution programs. Expanding beyond program students, the College offers police, fire, and EMS continuing education as well as a multitude of classes in those topic areas geared towards the general public. The shooting range is used by many local groups and provides a safe and secure area to accommodate classes in hunter safety and concealed carry.
Now that the facility is open and available, we are here to remind everyone of Southwest Wisconsin that this is your facility, and classes are being made available to you and your business or organization. A wide variety of opportunities await you at the Public Safety Complex. Our staff will be happy to help you identify and customize the ideal experience for you and/or your business or organization.
Please feel free to contact our staff with questions on how we can custom-tailor a course or lesson to meet your needs. If you have specific ideas for events, our knowledgeable staff will be eager to work with you to build your package. Remember, this is the PUBLIC'S safety complex!
Public Safety Building

Completed in 2012, the Public Safety Building (PSB) is the hub for the overall Southwest Tech Public Safety Complex. The PSB is the location of administrative and faculty offices, classroom and instructional space, as well as public safety equipment storage.

The Public Safety Building has two primary classroom instructional spaces set up with lecture and lab focuses. Either classroom however can be used interchangeably. Classrooms are outfitted with the latest in instructional delivery technology to easily accommodate audio and video delivery. The lab classroom is equipped with special forensic processing equipment to facilitate a host of advanced law enforcement and crime processing training and instruction. The PSB also has a medium-sized gym space to accommodate hands-on use of force or self-defense training. There are two specialty rooms, a bar and jail cell, set up to simulate corrections and law enforcement situation training.

As the central area for all public safety classes, the PSB is the major storeroom for equipment. There are various types of equipment available for use/rental to public safety agencies. Current and future classes available at the PSB include everything from basic law enforcement academy or emergency medical technician, to law enforcement digital forensics. Classes specific to the public vary from Motorcycle Training to personal self-defense and CPR/AED/First Aid.

Trailer

Immediately adjacent to the PSB, enclosed in a fenced area, is a use of force simulation trailer. This trailer is accommodated to simulate a wide range of residential or commercial locations, allowing agencies to practice more realistic training than table-top or classroom-based scenarios.

Ropes Tower

Located in the on-fire training ground, the Ropes Tower is a wooden structure designed for various ropes and rappelling applications, as well as a location for firefighters to practice firefighting tactics involving the use of ground ladders. There is an internal staircase allowing instructors or other observers a bird's-eye view of the training ground.

Public classes can be accommodated for those interested in learning activities related to climbing and/or rappelling.

Fire Burn Building

Don't let the name fool you, this building is not just for firefighters! The internal function of the Fire Burn Building allows fire crews an opportunity to practice live-burn training in a controlled and safe environment.

The main floor contains the control room for the LP gas-fired burn props. The entire building can be filled from the control room with simulated smoke to practice search-and-rescue or limited-visibility tactical situations for law enforcement. Live fire training rooms include a simulated kitchen area on the main floor and a bedroom on the second floor.

The multi-level approach of the Fire Burn Building better simulates a typical home in southwest Wisconsin, making fire crews more prepared to fight fire and perform search-and-rescue in a typical two story home.

The Burn Building can also be used for tactical training by law enforcement.

Fire Training Pad

Located around the Fire Burn Building is the Fire Training Pad. The training pad is the set up point for the mobile fire training props when at the PSC. The mobile props also utilize LP gas and can simulate a car fire, dumpster fire, gas meter or fuel storage container fire. The training pad also has an overhead barrel fight cable to allow for competitive or recreational water fights.

EVOC Track

The Emergency Vehicle Operations (EVOC) Track provides a comprehensive training location suited for a variety of vehicle-based training scenarios including precision driving, pursuit applications, pursuit intervention technique training, vehicle contacts, traffic crash investigation and skid pad applications. In addition, the track is utilized by Fire and EMS personnel for courses in safe emergency driving techniques, as well as for public motorcycle safety courses. The asphalt track features a ¼ mile straight section for pursuit applications, a variety of roadway intersections, a 300 ft. x 400 ft. training pad, and varying grades in the terrain, designed to reflect the common driving environments emergency responders face in the field. Additionally, the track features an outdoor classroom/pavilion and multiple stretches of additional gravel-based roadways.

Shooting Ranges

The secure range facility features three separate shooting ranges designed with the most sophisticated and innovative equipment to meet a variety of training applications. Each range features adjustable target distances up to 100 yards.

Range A (South) is an 18-lane range designed primarily for handgun training and basic rifle training. The range features two lateral moving targets and (18) turning targets. Range B (Center) features an eight-lane computer-operated range featuring laterally (side-to-side) moving targets, multiple turning targets and reactive steel targets. Range C (North) is a large open range designed for the use of steel targets and a variety of advanced rifle and shotgun training applications.

The range also features an outdoor classroom for lecture and demonstration portions of training courses.