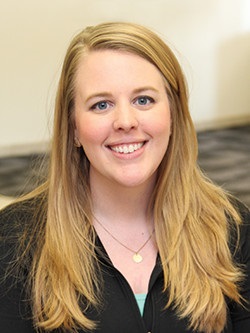 Phone: 608.822.2372

Toll Free: 800.362.3322, extension 2372

Email Jordyn
College Connection (Bldg 400), Room 477
Personal Note:
I was born and raised in southwest Wisconsin in a community full of history and where much of my family still resides. I had an incredible high school experience that prepared me for college, but I wasn't "sold" on a specific career. I began my undergraduate studies at a small, private college. While it was a great school where I met many lifelong friends, it wasn't the right place for me. I transferred to UW-Madison, flourished, and graduated with a bachelor's degree in French and Spanish. I had two mentors through student employment that opened my eyes to a career in Student Services, specifically student support and academic advising. I knew I would need a master's degree in order to obtain an advising position and went on to pursue my Master's in Adult Education from UW-Platteville.
I greatly enjoy working with students to determine what program of study best fits their career goals! Moreover, it's incredibly important to me that we work to ensure each student has equal access and support through their journey as a student – academic advising is one of those key pieces. Along with other staff and faculty, I'm so excited to meet you and to support you through your studies at Southwest Tech!
Degrees / Certifications:
BA in Spanish and French, UW-Madison
MSE in Adult Education, UW-Platteville (2016)
Job Duties:
Provide individualized and broad student advocacy to help prospective, admitted, and enrolled students navigate the college experience.
Advise students on program options, course selection, and career choices as well as programs.
Assist in recruiting and retaining students from admission through graduation and career goal attainment.
Community Involvement:
Southern Heat Volleyball, Coach